SEO hacks to boost your website
13 | February 22, 2021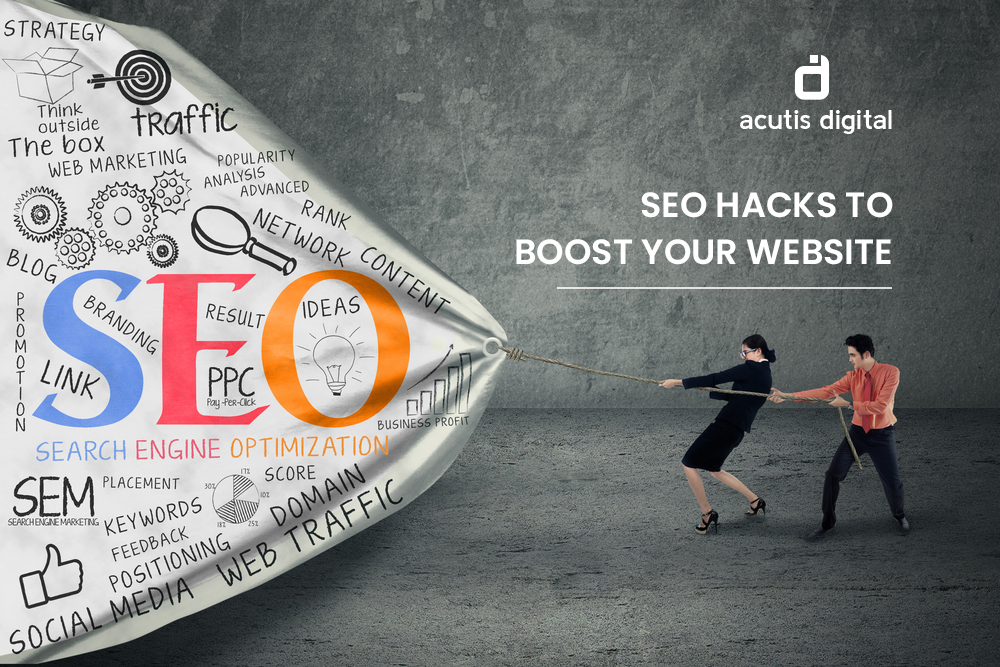 Nowadays every business is tapping into the possibilities of digital marketing. The creation and maintenance of a website have become mandatory for every brand or business. The website serves as a strong identity and helps build credibility. With every brand having a website how do you stand out and turn up on the search results?
SEO helps you in the quest to turn up at better places on the search result and help you with the ROI. Acutis Digital is the best SEO Company in Kochi and can help your business to rank better on the search result.
So let's start with the basics. You should optimize your website on the basis of how your prospective customer views your business or searches for it. The SEO content for your website must be created on the basis of your customer's needs.
Answer the following points while you create your SEO content for your website
What services/products are you going to provide your customers?
How are your customers going to find this content?
Is it easy for your customers to navigate through your website?
After going through your content how can they contact you?
Your website should help you to decrease the distance between your business and your audience. The contents must be easy to understand and should give an overall image of you and the ways that they can reach you and answer their queries. Acutis Digital will help you with brilliant ideas on how to get more customers and traffic to your website.
Apart from these let's check out some of the hacks to boost your website organically and fast.
+ Create a quirky and colourful website that matches the aura of your brand
Your website should be a bundle of all the information regarding your business in a quirky and colourful manner. The contents must be short and attractive.
+ Fix bugs and load speed of your website
Update on the technical issues of your website and find solutions for each of them. The potential customers are looking for quick answers for their queries on the web and the speed and stability issues of your website must be fixed beforehand. A full SEO website audit is recommended for your website if it is not generating the desired results. Issues such as browser incompatibility, broken links, and slow site load speed – everything must be detected and fixed. A slow website loading will result in the customer leaving your website and clicking on your competitor's website.
Most internet users undertake a search through their mobile phones, so optimizing your website for mobile phones is important.
+ Keep a track of everything
Keeping a continuous and close track of your website and the factors that affect its performance must be done. SEO is not a one-time process, things relating to your business and its outside environment must be considered and contents in the website must be regularly updated. The performance of each page in your website should be kept on track and necessary changes must be made to lift its performances if any of them are not fetching you the desired results.
+ Creating a space to answer queries
Equip your website and its pages with spaces that would help to answer the queries of the customers that visit your website. Creating a FAQ section on the web pages will help the visitors to connect more with your business and even answer most of their queries relating to your product and services. To get more hacks on how to create a website for your brand – we are always here to help you. Acutis digital is also a web development company in Kerala that caters to your specific needs.
Always remember that a great and effective SEO campaign starts with your website. So be aware of the defects in your website if any and also the areas you can change to make it more interesting. We here at Acutis Digital provide you with a step by step insights regarding your progress and how you can increase the traffic to your website and increase the conversion rate. Reach out and talk to our SEO expert today itself!