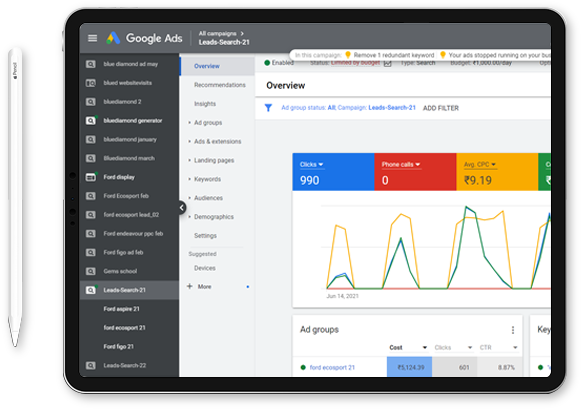 For the brands who choose
instant results and more returns.
Google Adwords is the most promising digital marketing tool that ensures return on investments and an increase in conversions. Google ads are the best way to announce your products and services through a series of planned ad placements. Ads can be placed on the search results, Google's partner websites, mobile apps and YouTube.
Google is the most prominent tech giant with a line of products including Google search, mail maps, YouTube and more has an unmatched user base. Acutis Digital provides expertise and experience in dealing with Google Ads and is the best PPC agency in Kerala.
So where do we start?

Strategy
We start with extensive research and deep analysis of your business that helps us to draw the right insights and crucial points on how your campaign should be to get maximum reach and revenue.

Execution
We start with extensive research and deep analysis of your business that helps us to draw the right insights and crucial points on how your campaign should be to get maximum reach and revenue.

Optimization
A comprehensive analysis of the ongoing campaigns gives us insights into audience data and trends and changes can be implemented in real-time. We help you derive quantifiable results from each rupee invested by you.

Report
At the end of every month, we bring you a detailed report of all the activities that we have done and a summary of the month's campaign expenses, leads, conversions are discussed in detail with our clients.
Why is Google Adwords a good idea?
Generate rapid and measurable results
Unlike the other organic digital marketing tools, Google Adwords helps to generate faster and measurable results.
Drive in more website traffic
Google ads let you bring in more traffic to your website. A professional Google ad agency will give you the right insights and analysis to grow your business. More clicks mean more website visits and increased sales and ROI.
Tracking your competition
Google Adwords provides various tools that can be utilised to assess and understand your competitor's strategies too. We being a trustedPPC agency in Kerala, can provide you with the right solutions to revamp your dull lead generation strategies.
Choose your budget
Google Adwords lets the users on what amount to bid on. The budget for the campaign can be fixed in the beginning and there are several budgets to choose from according to your needs.
Still, have doubts?
Talk to our social media expert
Best PPC agency in Kerala | PPC agency in Kochi
Capabilities

PPC Ads
Pay-per-click Ads is a framework wherein the advertisers are entitled to pay a sum of money for every click that the search engine manages to deliver. You have to pay only when a prospective customer clicks on your ad. Management of the PPC ads is a continuous process that takes practice to master. We at Acutis Digital is home to the best PPC experts that will cater you accurate results.

Display Ads
Display Ads involves creating eye-catching content that urges your customers to click and visit your website. Contents that are meaningful helps you to drive the prospective customers who have a higher rate of conversion.

YouTube marketing
Planned YouTube ads can fetch you more visibility and traffic to your website. Let's leverage the possibilities of YouTube for your business to bring in more leads.

Retargeting Ads
Retargeting Ads are used to target those prospective customers who have visited your website or interacted with your content on any other digital platform. Retargeting ads ensure 100% results. To know how to start with Retargeting, reach out to us.

Shopping Ad campaigns
Shopping ad campaigns are run to promote your products and services and https://acutisdigital.com/public/increase their sales. These need to be placed in the proper channels to get results. An expert agency will help you to gain more sales and revenue.

App Ad campaigns
Your brand's ads can be promoted through various mobile applications that yield you maximum returns. This is a great way to target your prospective customers who have similar interests relating to your brand.

Local Ad campaigns
Local Ad campaigns are useful to promote your brand in a particular geographical location. Only the prospective customers that reside in a particular region are targeted.
To unlock the full potentials of Google Adwords, reach out to the best PPC agency in Kerala in Kochi