How to get your content go viral...? Understanding the viral phenomena in the digital era
13 | January 15, 2021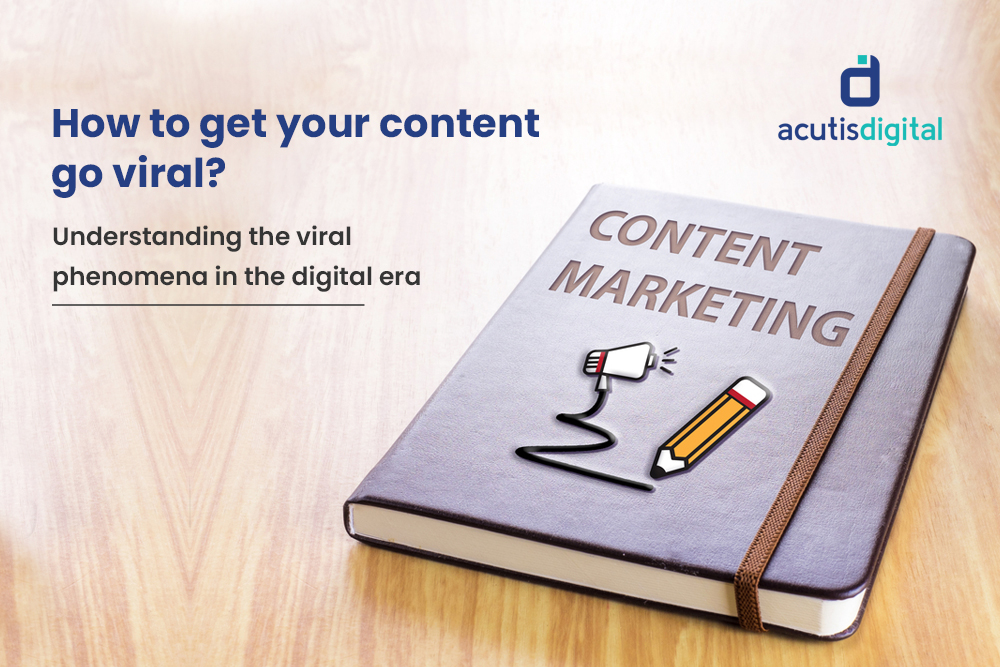 We are all used to the options we have to seek information or to get entertained. The contents that appear to us while we use our phones all are based on the present trends in contents. We as the audience always tend to watch and view those posts (images, videos and blogs) that have something quirky/fresh to offer.
Viral content gets liked, shared and talked about for its uniqueness, information or entertaining part provided by it within a few hours of its publishing. Viral contents get a greater reach and popularity. There is no secret ingredient for viral content, but authenticity and uniqueness always help for content to get viral and popular. Social media has a large role to play in making content viral. A content if gets viral will help your brand/business to reach more audience and create a lot of people to talk about your content on their platforms. To get more tips on creating new content ideas talk to our experts at the best digital marketing company in Kerala – Acutis Digital!
So how can your business create contents that can reach more, talked about more and even get viral?
+ Research
Proper research is required to create contents that will help you get that extra views or reach. Create authentic and visionary contents, a bit of the out of the box one's avoiding the clichés.
+ Select the right platform
Selecting the right platform to upload your content is important. There are different platforms such as Facebook, Instagram, YouTube, Twitter and more that has different features to publish your content.
+ Create contents that evoke curiosity/emotion and have reliability
The contents must be prepared in such a manner that it helps to evoke curiosity and emotions in the audience. This is important for every brand.
+ Timing
Timing your posts is an important factor to be kept in mind. Contents must be created that are contemporary.
Using a popular and funny movie dialogue or recreating scenes from them and using a social media influencer in your contents can help you to reach more people.
We have all watched the recent viral videos and posts on social media. We have laughed over the Naisal K P's perfect ok video, grooved to the steps of Rasputin song with Naveen K Razak and Janaki Omkumar and the latest Ad film by Bhima Jewellery has made us rethink about the establishments in the society and why changes are required.
Creating and focusing on these type of authentic contents will help your business grow and talked about more. The more popular your brand/business gets the more sales and revenue it can earn So if you are a business that is on the lookout for that game-changing post and to get industry-specific insights and brand consultations, meet our expert's at the most creative digital branding agency in Kerala – Acutis!