Proven techniques to convert your social media followers into paying customers
13 | March 31, 2021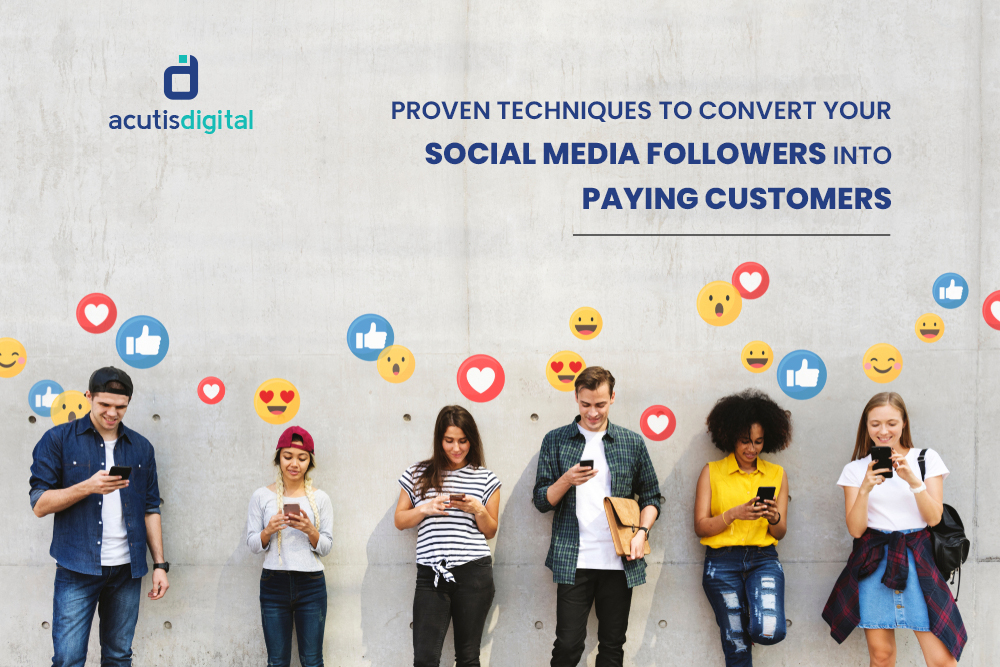 Social Media Marketing is a digital marketing tool that is used by most businesses. Social media platforms provide various tools and techniques to reach your target customers, engage with them, create brand awareness and maintain your online reputation.
The ultimate objective of all social media strategy is to gain a desirable ROI and increase the customer base. Every follower on your social media platform is a prospective customer for your business. The art is to turn your follower into a paying customer. To know more about how to increase your audience base on your social media platforms and earn more sales and revenue - reach out to Acutis Digital. Acutis Digital is one of the best digital marketing company in Kerala.
Here are some proven techniques to help you in converting your social media followers into paying customers.
+ Invest in more than one social media platform
Making use of more than one social media platform to market your business will help you double up your reach and customers. Each social media platform has different functionalities and audience base, quick research about the platforms is a prerequisite before every campaign. Your prospective customers may be diversely spread across different social media platforms and ensuring your presence on multiple platforms will help your business big time. Facebook, Instagram, Twitter, Pinterest, YouTube etc… have different sets of tools and techniques to market your business – choose accordingly.
+ Optimize your content and engage regularly
Before creating and posting your content on social media platforms analyze factors such as your target customers, target location, trending topics etc... Optimize your content according to your strategy. Your social media activities must be regular. If you are aiming for increasing your customer base and conversions try posting and engaging with your followers on a daily basis.
+ Keep an eye on your competitors
Keeping an eye on your competitor's social media platforms will help you in framing effective strategies and also help you in the expansion of your customer base. Monitor your competitor's platforms and their campaigns can help you to assess yourself and always have a leading hand.
+ Provide interesting and meaningful experience through your social media platforms
Quality always triumphs over quantity. Ensure that your posts and stories offer interesting and unique experiences. Create contents that the audiences can relate to, this ensures that your business stays in their minds. Always respond to your audience messages, comments and queries.
+ Invest in paid ads on social media
All the social media platforms including Facebook, Instagram and LinkedIn provide its users with the facility to run paid ads. These can be helpful in increasing reach, clicks and engagements. By reaching and engaging with more audience, conversion becomes easier.
+ Provide customer service on social media
Creating and providing a space to connect with your customers and providing them support and service through social media platforms will help your business to build trust and loyalty. This can be used as an effective strategy to beat the competition and stand out from the crowd. The more you are connected with your customers the more are the chances of conversion.
The goal of all digital marketing strategy is to increase sales and revenue. Social media campaigns if run effectively will help you to retain your existing audience, claim new audience and convert them into loyal and paying customers. At Acutis Digital we help our clients to come up with accurate social media strategies to increase their ROI.