How to grow your OTT Platform through Digital Marketing?
13 | February 19, 2021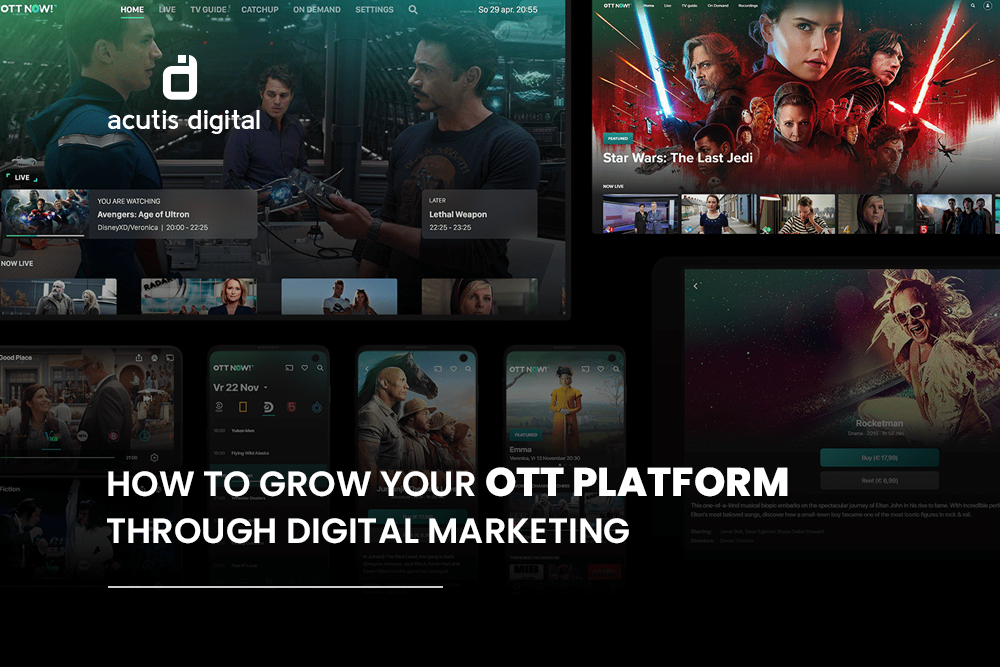 The OTT platforms are gaining their share of acceptance and viewership recently. So what are the things that led to this phenomenon of the OTT boom? The recent events have changed our cinema viewing experience, most of us now tend to watch movies and shows on OTT platforms. OTT platforms have now become the place where new movies and shows are released. It is a new source of entertainment for all internet users. The trends strongly suggest that there will be significant growth in the OTT platform viewership, this year. The OTT platform market is highly competitive with the biggest competitors being the multinational giants. We also saw a rise in several other Indian OTT platforms that streams regional contents. So with the choices being many and competition being tight how can your OTT platform gain more audience and viewership..?
The answer to this is digital marketing. Digital marketing can bring in results that will help you to top the game.
Invest smartly and create an identity
Digital marketing is the best investment that can help you to bring more audience. Most of the audiences don't even know that such regional OTT platforms exist, the first step will be making an entrance and letting your audience know that you exist. This can be done with the help of many digital marketing techniques (Acutis Digital is one of the best digital marketing agency in Kerala and will help you to create your perfect digital marketing strategies) The first step to gain more reach is creating a unique identity for your brand. This can be done by listing yourself on all social media platforms and everywhere in the digital domain where you can get yourself listed.
Google listing will help you to list yourself as an OTT platform and will be displayed to your potential customers when they undertake a search. Creating and maintaining a Wikipedia Page is also going to help your brand in the long run. A Wikipedia page will help in improving your position on the search result page and help in creating authenticity and credibility for your platform (Acutis Digital will help you create and maintain a Wikipedia page too) Ensuring that your website contains all the necessary details regarding your platform, its subscription plans, supported devices, things offered, shows and movies streaming – everything plays an important role.
Identifying and nurturing your audience
Identifying your potential audience and urging them to take action must be carried out in a proper manner. Once the audience group is identified you can target them and create posts and ads to convince them to take the action (The action here, will be installing your app and subscribing to it) The target audience can be found by using various tools. The target audience always depends upon the shows and movies that you are streaming. So, the content of your OTT platform defines the range of audiences to target.
Connect and create engagement through social media platforms.
Social media platforms such as Facebook, Instagram, and Twitter can be used effectively to gain more audience and connect with them. Every time a new show or movie is set to release buzz can be created through these platforms. Create contents that connect with the show/movie and generate curiosity and interest among the audience. Always let your audience know about what's streaming on your platform. You can convert each show or movie in your platform to eye-catching contents, urging your audience to come and watch it. Creating contents with the show/movie artists and with certain social media influencers can also help to create buzz around your platform and its shows. To connect with your target audience on a personal level reach out to our social media executives in the finest social media marketing company in Kochi – Acutis Digital.
YouTube can be also used effectively to gain more results. Running YouTube ads is a sure-shot way of finding a new audience market. Your digital marketing campaigns must be created keeping in mind clear-cut objectives. Make use of every Digital marketing tool and focus on the ones that fetch you results. The perfect time to get your digital marketing campaigns for your OTT platform is now. At Acutis Digital, we constantly keep an eye on the present trends and is constantly updating ourselves to provide the best digital services for our clients. So if you wish to revolutionize the market with your product d reach out to us.