Reasons why your lead generation campaign is not yielding the right ROI
13 | November 09, 2021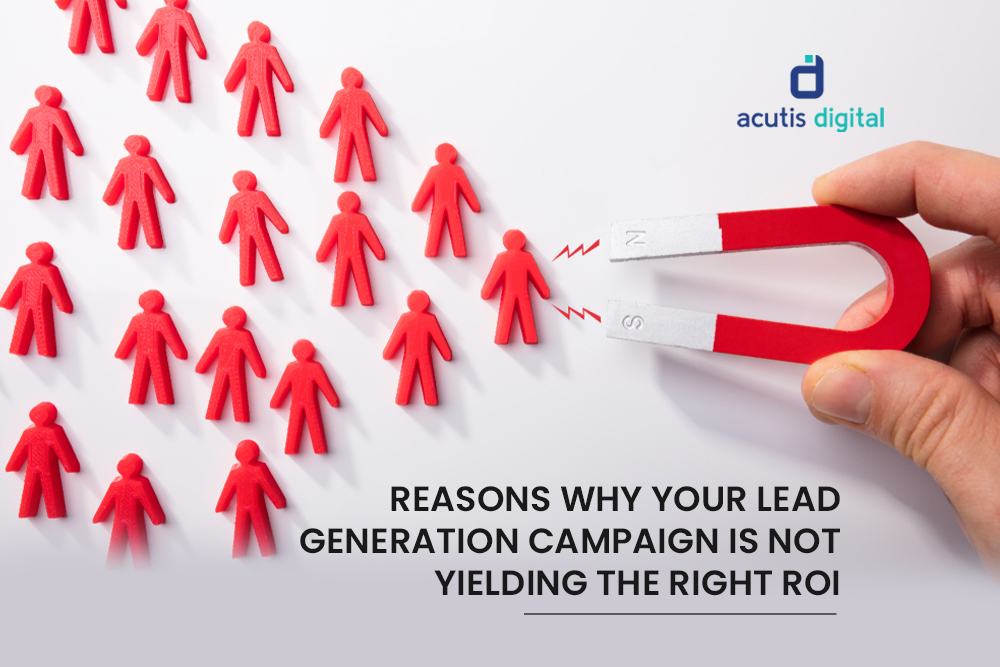 Is your business struggling to find the right leads through your digital marketing campaigns? Do most of your digital campaigns yield you only meagre leads or none at all?? These are problems that need to be immediately taken care of. For a business getting the right and quality leads are important. The absence of quality leads from digital campaigns is a waste of your resources and efforts.
Being a top Lead generation agency in Kerala with in-house analysts and experts we look into the problem and serve each client with comprehensive solutions. There can be many reasons your digital marketing campaigns might be giving you low results. These can be different for different businesses depending on their respective industries and several other reasons. Getting the basics right and laying a strong foundation is necessary. Creating and establishing a name for your brand is one of the basics that you need to set right.
Now let's look at the most common reasons for low leads or nil leads are
Targeting the wrong audience
This is one of the most common reasons for less or nil leads. Targeting the right audience lays the foundation for better reach, leads and conversions. Your ads must be made available and visible to those users who are having similar tastes and preferences relating to your product/service. Your ads targeting the wrong audience is an utter waste of money, time and effort.
Your ad campaigns are inconsistent or unclear
Postings must be regular. The ads your business is posting must clearly communicate all about your business and its offerings in a simple yet attractive manner. Choose the right kind of tone, colours, visuals and medium to communicate to your target audience.
Inadequate quality of the ads
Original and quality ads are one of the main determinants that decide the quality of leads. Focus on maintaining quality and authenticity throughout your ads. Be creative and let your audience know why your products/services are best for them.
You are not taping in on the opportunities at the right time
The needs and the tastes of the buyers are always on a change. There are many things that influence their tastes and preferences. Keeping an eye on the present trends in the market and the social media networks is going to help you big time. Focus on the present content trends and act accordingly for best results. (To get a rough idea on how to accelerate the sales and polish your business reach out to our experts at the best digital marketing company in Kochi – Acutis Digital)
It takes time to yield the right results
It's not going to be something that turns up overnight. An efficient content strategy is one of the bases for all your lead generation campaigns for your business. So take your time to create and curate a vibrant branding first and then focus on your lead generation campaigns. To get a vivid branding solution for your business reaches out to our experts at a dynamic digital branding agency in Kerala – Acutis Digital!
Not keeping an eye on the analytics
There are several analytical tools provided by each of the platforms that you run campaigns on. Keeping an eye on the analytics and analysing those ads which are working and which are not, can help you to create more personalised and accurate creative for your business. Keep refining your works and develop strategies that yield better reach, engagement and conversions.
Invest in the right tactics and tools that bring you results in the long run. Know that the quality of leads depends on what your business has to offer to your prospective customers. A great content strategy is always going to help you gain more. To know how you can earn more leads and return on your investments, talk to our expert at one of the leading digital marketing agency in Kochi – Acutis Digital.