Creating a successful digital marketing campaign for your business
13 | May 27, 2021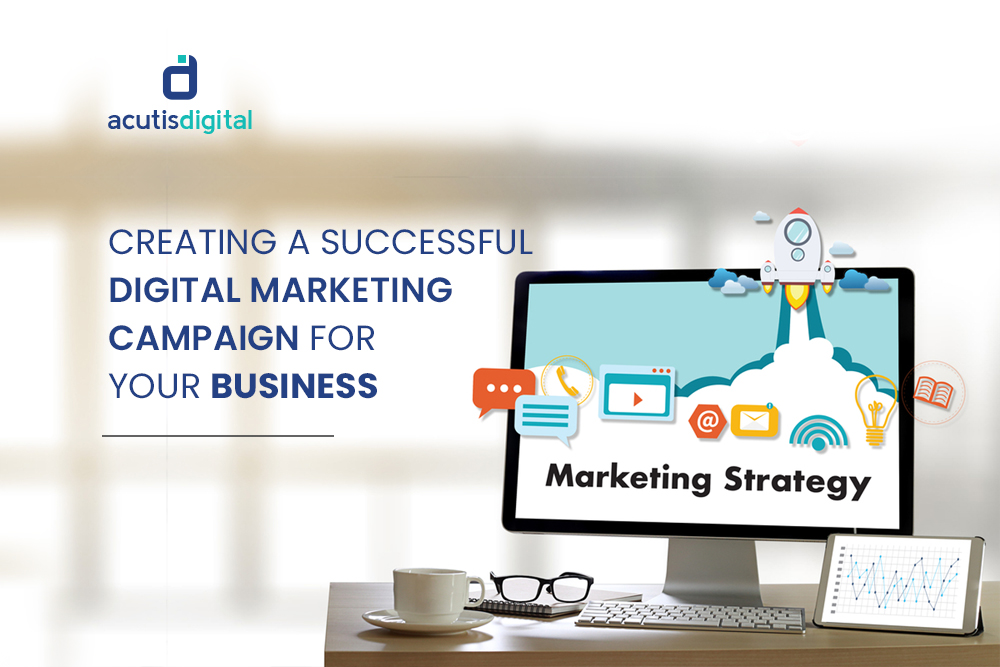 Are your digital marketing campaign going according to your plans/strategy or are you planning/strategizing according to your campaign?
A clear-cut strategy is the backbone of your digital marketing campaign. A digital marketing strategy lays down a blueprint of your campaign in a quantifiable and realistic manner. Having a clear cut digital marketing strategies is your first step in setting up a digital marketing campaign to yield measurable results and ROI. Most of the campaigns are undertaken by businesses without a proper strategy. Acutis Digital is one of the best digital marketing company in Kochi that will help your business in drafting accurate digital marketing strategy to yield maximum ROI.
So what are the steps in creating a successful digital marketing campaign for your business?
+ Define your goal
Every digital marketing campaign starts with defining a clear cut goal or an objective. The thing that you want to achieve through your campaign must be clearly drafted out. It might be different for different businesses, it all depends on the need of your business. For some it might be increasing the conversion rate, creating brand awareness or even reducing the bounce rate.
+ Choosing the KPIs to measure
KPI is the acronym for key performance indicators. KPI refers to all those metrics that are connected with your campaign. Depending on your strategy it can be the traffic to your website, conversion rates, click-through rate, cost per lead etc. KPIs help you measure the progress of your campaign in a quantifiable manner.
+ Setting your budget
Budgeting is one of the most important steps in your digital marketing campaign. If done right digital marketing can bring in the best ROI in comparison with any other form of promotion. Allocating the necessary funds must be taken into consideration. See this as an investment rather than an expense. At Acutis digital we charge you only the minimum service charge on the amount spent by you for the ads. Choose a digital marketing company that has a transparent system of communication like us.
+ Analysing your past campaigns if any
If your business has done any digital marketing campaigns in the past, those must be properly studied and analysed. Look for the key insights regarding these and measures can be drafted on the basis of that. Analysing the past campaigns can help you eliminate the ones with no ROI. Learn from your past mistakes and use that wisdom to frame new ones.
+ Analysing the competitors marketing strategies
It is always recommended to keep an eye on your competitor's campaigns to understand the general industry standards and create a plan to let your business stand out from the crowd. To get tips on how to create your campaign talk to our expert @Acutis Digital.
+ Defining your target audience
The next step is to define your target audience. Who are the people that you are trying to reach and what problems theirs are you trying to solve through your product/service– These two questions need to be properly answered to create a 100% result oriented campaign. Identify the characteristics, tastes and preferences of your target audience and work out your plans accordingly.
+ Work on the campaign message
Each move of your campaign must be directed towards achieving your objectives. Ensure that your messages/contents are eye-catching and urge the target audience to take the desired action. Create a messaging plan that covers all of your campaigns highlights and the target audience is fully informed.
+ Selecting the channel and the medium
Selecting the medium of communication and the channel is to be finalized. The contents/messages can be in the form of texts, images, videos or even audios. According to the medium of your content and the target audience, the best channels can be decided. The most popular channels include- Facebook, Instagram, Google Search, YouTube, LinkedIn and more.
+ Implementing the campaign
Once the above steps are completed the next is implementing the set plans. Timely reviews are essential to ensure that the activities are going according to the plan.
+ Measuring the results
Review the results of your campaign to access the outcomes. Some campaigns might have not acquired the desired results but may have brought any other benefits to the business. For example, a campaign aimed at increasing the conversion rate by 10% might have brought only an 8% increase but also brought with it a steady increase in brand awareness is a win for your business. Measure all aspects of the campaigns, work on the areas where you have gone wrong and it's always a learning opportunity.
An expert or a digital marketing company can help your business to draft accurate digital marketing strategies. A strategy is a prerequisite for a result-oriented digital marketing campaign.
We are a digital marketing strategy agency in Kerala that provides each of our clients with nothing less than the best.