Digital marketing trends that your brand should follow in 2022
13 | January 25, 2022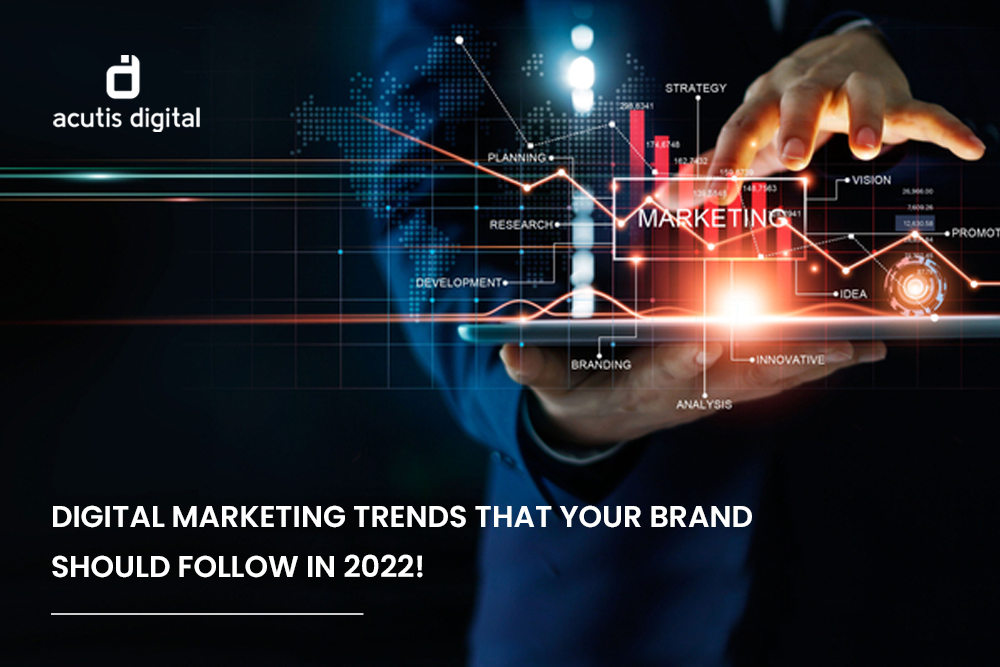 Each year brings in a whole load of possibilities for a brand. Either you can efficiently utilize them and get ahead of your competitors or just be a part of the crowd. Digital marketing has become important for every brand that wishes to upscale its business instead of just existing. The year 2022 is going to bring a whole load of changes in every aspect that you market your brand. These trends need to be properly looked upon and must be given due attention. We being a digital marketing company in Kochi, our experts have listed out some trends that you should definitely include in your digital campaigns 2022.
Let's start with the basics Adopting the social media mantra!
Most people hear about and even make the purchase decision by spotting products through social media. Social media has the power to promote your brand and give it the right kind of push. So if you want to scale up your brand in 2022, we would definitely recommend you sharpen your social media game. Talk about the latest trends, have a unique voice and visual for your brand, nurture and grow your audience through the various social media platforms. To know more about how to grow your brand through social media platforms, reach out to our experts at the best social media marketing company in Kerala – Acutis digital!
Staying strong with the Google listing and local SEO
The pandemic has reduced the area span we wander to buy and experience the things we need. Most of us now look for the businesses that are close by, and we buy our products from them. So making sure that your business is listed in the Google listings and you have rightly invested in the local SEO – enables you to be visible to those customers who are nearby and are searching for your products/services. To connect with the experts in the best SEO Company in Kochi – reach out to us!
Optimising the contents for voice searches too
Voice searches are getting more common these days. With the arrival of voice assistant products, voice searches have been getting popular. The Amazon Alexa, Google Home and several other products have gained popularity. The frequency of voice searches has also increased sharply. Thus, focusing on optimising the contents for voice searches can help you turn up more on the screens of your target audiences.
The right kind of targeting and sorting your audience
Sort your customers in the right manner. Classifying them will help you target them with the right kind of creative, emails and messages. This can help you save time and effort. So sort your audience and nurture them according to it. Give more focus to targeting your customers the right way. You have the option to target the audience on the basis of a wide variety of criteria's including – age, gender, geographical location and more!
Trying out the interactive contents
Posting interactive content that enables your audience to respond to your posts can come in handy. Your audience must be able to connect with your brand - its postings and should be able to put out something from their side. Posting puzzles, riddles, contests and other fun ideas that requires audience interaction can help you get closer to your customers!
Creating and posting more video content
Videos are a form of content that attracts more audiences. Videos are fun, entertaining and will help you communicate with your audience in a clear and easy manner. Videos are the most preferred form of content that will get you instant attention and results. So invest smartly and in a video production and video marketing agency in Kerala which will get creative solutions for your brand!
Keeping your website up to date
Websites help you to earn more. Keeping your website updated both in terms of content and functionality will let you get more attention and rank better in the search results. To get insights about your website and its performance reach out to us
These are just some of the ways in which you can leverage 2022 digitally! Digital marketing is now an essential part of growing every business. Making use of the right techniques and strategies will help your brand to grow more audience, accelerate conversions and get more returns on your investments. To start marketing your brand with the reach out to the best digital marketing company in Kerala – Acutis Digital!